Details

Published on Monday, 30 July 2012 13:49
Written by Steve Wennerstrom, IFBB Women's Historian
Las Vegas, Nevada, July 28: Dedication is a valuable commodity in many facets of a given sport and it isn't an exclusive arena for athletes alone. Coaches, training partners, sponsors and of course, promoters all share in the need for unwavering dedication. So, when you speak of dedication in the world of promotion in bodybuilding, and more specifically as it pertains to the NPC USA, Jon Lindsay is the poster boy of dedication to bodybuilding promotion at this huge annual event.
Staged again this year at the now familiar Artemus Ham Hall on the campus of the University of Nevada/Las Vegas, Lindsay has now walked the walk with his dedication to this contest for what is now the 17th year of his reign at the helm. With Las Vegas as the host city to this contest in most of those years, and all since 2000, the event has grown tremendously. With the addition of new divisions in the past year, this year's total entries for the USA was just over 800. That's up 125 from 2011. But along with the addition of new divisions also brings the subject of women's bodybuilding supposed decline and the negative attitudes that follow it every where it goes. This year the total number of contestants in the USA women's bodybuilding division was 31. A reportedly clear indication that women's bodybuilding is on the downhill slide. But how many naysayers have taken a closer look at the numbers (which don't lie, right) ?. Dating back to 1990 – 23 years should be long enough to make a point – 31 entries at the USA this year is not a precedent. In 1996, 31 women entered the USA. In 1994, 32 women entered. In fact, from 1994 to 1999 (a six year stretch) the average for entries at the USA in women's bodybuilding was 34. We're talking well over a decade ago. What is true about the USA and women's bodybuilding is that from year to year and decade to decade the entries ebb and flow.....ebb and flow. In 1991, 67 women entered. In 1992 only 37 made the journey to the USA. A decade ago in 2002, 66 women entered, followed by 53 in 2003 and 43 in 2004. In 2005 it was back up to 55, and in 2006 it dropped to 39. So, from 1990 to 2012 the average number of entries at the USA is 43. In 1991 and 2002, 67 and 66 women entered (and that was when there were only three weight classes), those numbers exceed the 59 women who entered the new Physique division last year – with four divisions this year is down slightly to 55. Ebb and flow....ebb and flow. Is it really that important to wish women's bodybuilding away to the corn field? So, yes, 31 is a low number of entries, but who can say how many of the women in the Physique division this year wouldn't have entered the Bodybuilding division if Physique wasn't adopted thus pushing up the number to what has been the average? The top five placers in the four weight divisions at this year's USA also prove that the quality is still looking pretty good. After all, this contest has a rich tradition beginning with Rachel McLish in 1980. The USA has also produced past champions such as Laura Creavalle, Tazzie Colomb, Denise Rutkowski, Iris Kyle (whatever happened to her?), Bonny Priest, and Heather Policky among so many others.




Lightweights: We Have a Winner and It's Dinger

How can you not love a hometown favorite who comes through in front of her hometown crowd. Well, that's what Denise Dinger did on this night and the former Bodybuilder-
turned Figure competitor - turned Bodybuilder came full circle with her best ever showing to win the lightweight class at the USA. But what makes her victory so sweet is how she came to the apex (at least so far) on the Vegas stage.
Back in 2007 and 2008 Denise Dinger entered the NPC USA as a Figure competitor. Both times she missed a top-15 placing. In 2009 she made the switch to bodybuilding, this time for good – and she was about to embark on what would be a four- year quest to nail down a win at the USA which was always in her own backyard. So, in 2009 she finished second to Margaret Negrete. In 2010 she slipped to third behind runner-up Marina Lopez and winner Claire O'Connell. Then last year she again finished second this time to Brenda Beitia. In this case, the fourth time was a charm. At 4-10 ¾, 113 pounds and now 50, she still looks like a muscular pixie half her age. She was a deserving winner, but her win was far from a 'gimme' with runner-up Patricia Watson nipping at her heels. And now about that Bodybuilder-turned- Figure competitor......did we mention she was the overall winner at the 1990 NINETEEN NINETY Nevada Championships before giving Figure a try? There may be no sweeter win in Las Vegas tonight, and as icing on the victory cake, Dinger was awarded qualification for a pro card joining eventual overall winner Tierany Chretien. In addition, Dinger is only the second competitor from Nevada to win the LW USA division, the other being Clifta Coulter in 1996. In a field that only included four contestants, runner-up Patricia Watson managed to make a contest of it with a 114-pound structure that was good enough to bring a sterling 2011 season to this event. Last year Watson won the NPC Team Universe LW division earning her a trip to the IFBB World Amateur Championships where she finished fifth. She followed that up with a runner-up spot at the NPC Nationals. So with bridesmaid finishes at the two biggest national events in her pocket, she'll no doubt be looking to do damage at an upcoming event either this year or in 2013. Kerri Arnone finished third here after a LW victory at the NPC Junior Nationals earlier this year. From Westminster, Colorado, Arnone has been active in her home state competing in the NPC Rocky Mountain, and 2010 NPC Colorado.

Fourth went to Carla Krodinger of Lacombe, Louisiana. Entering her first national-level event, Krodinger was a runner-up finisher at the 2012 NPC Southern Classic.




Middleweights: A Rosie Win For Rossi



When a competitor worth her weight in protein powder places second at a major national event like the USA, the desire to step up to the top spot is all the motivation she'll need to propel her to the next level. And that's what Californian Carla Rossi did at this year's USA. In the same fashion Denise Dinger moved into the top placing in the lightweights, Rossi was a runner-up in the MW class last year. It was her first entry at the national level but the potential to move up to the top spot was easy to predict based on her overall level of muscularity. From Danville, California, the 124-pound Rossi was much improved overall in her general appearance from last year and her stage presence really made the difference in the confidence she showed displaying her compulsories – especially her side chest, arms , and any pose that showed her entire frontal arsenal of muscle groups. In tandem, the result was a victory in the MW division. Rossi is the most recent Californian to win the MW USA class since Fatima Johnson and Dawn Riehl won back-to-back MW titles in 1998 and 1999. Runner-up to Rossi was Jessica Simonet. Weighing just a half pound less than Rossi at 123 ½, she made a quantum leap from her eighth-place showing at last year's USA. A former Figure competitor turned top national bodybuilder, Simonet dropped down to the MW class after competing as a LtHW last year. Best suited as a MW, Simonet – from Prior Lake, Minnesota - was the 2010 MW class winner at the NPC Junior Nationals, and placed fifth MW at the NPC Nationals last year. She exhibited one of the most notable levels of improvement by way of placings in the entire USA field.

Texan Jaquita Person-Taylor at 122 pounds grabbed the third spot, with Natalie Spore of neighboring Henderson, Nevada – a LW winner of the NPC Las Vegas Classic last year – claiming the fourth position.



Light- Heavyweight: Tierany, The Texas Tornado


With 14 contestants in the light-heavyweight class, this quickly became the most competitive group of the four weight classes.
Bodyweights in this class ranged from the lightest contestant at 128 pounds to the highest allowable at 140. But weighing in at just a half pound under the limit was Texan Tierany Chretien, and in short order she made every pound count. Followers of women's bodybuilding over the past three years know Chretien has been waiting in the wings, and as it turned out on this night she made not just one, but two curtain calls. A top national competitor at both the NPC Nationals and NPC USA, Chretien finished fourth at both the 2009 and 2010 Nationals. She moved up to third in 2011. At the USA her runner-up finish last year really put her on the radar with an outstanding overall physique – and always as a LtHW. Competing sparingly since 2003 Chretien has been a steady work in progress that now rates at one of the nation's finest amateurs who is about to be thrust into the limelight once again. Next time at the pro level. From Richardson, Texas, Chretien was described in last year's RXMuscle USA report where, "......At the right time and in the right place, she can put a whooping on this class and it could be sooner rather than later." Well, the right time was July 28th, and the right place was at this NPC USA and the "whooping" she exacted was not only good enough to win the LtHW class, but the overall USA crown – bringing the USA title back to Texas after fellow Texan Sarah Hayes won the overall title in 2010.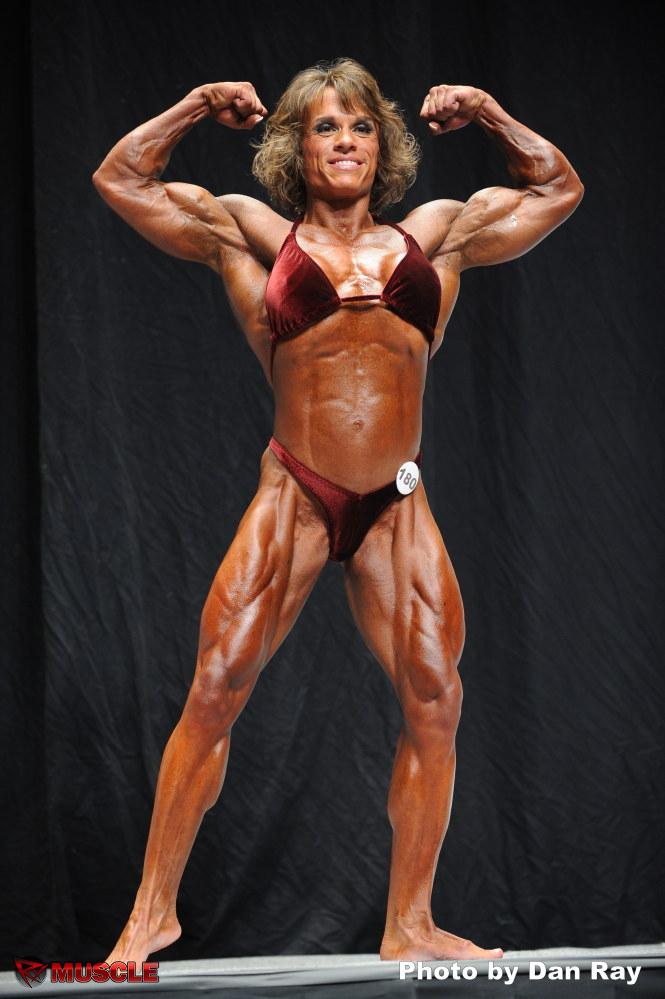 In the only women's bodybuilding class that brought out six contestants in the first call-out of prejudging, Wisconsin's Sarah Mathison was another competitor – not unlike Chretien – who had been waiting in the wings, and made her presence felt in that group of six. At 136 pounds, Mathison was well-balanced with even muscular development throughout her physique. Those qualities had been apparent in her past contest efforts winning the 2010 NPC Junior National LtHW title, and finishing second at last year's NPC Nationals also as a LtHW. She may still remain in the proverbial wings with her placing here, but barely.
Californian Shannon Courtney captured the third-place finish and she did so with little or no fanfare. Far from a veteran of the national-level events, Courtney's 130 pounds was, nonetheless, a quality package. Showing excellent overall balance and muscular shapes. Only her conditioning level kept her from pressing even harder on Mathison and Chretien. The hallmarks of her pleasing physique are best shown in her beautifully shaped thighs. Higher finishes than third are most certainly in her future.
What more, in a positive sense, can be said about fourth-placer Christine Sabo? Her perseverance is admired by all and her long veteran career is dotted with an overall win at the 2004 NPC Junior Nationals and a LtHW victory at the 2008 NPC USA. This was Sabo's seventh entry at the USA, and during that time she has also finished second in 2004, 2006, and 2009 as a LtHW. Her finish here points more to the high quality of the class than to any one point in her physique that would have caused her slip to fourth. No matter the place, she remains as one of the country's finest amateurs that is good enough to be pro.
Placing fifth was Karen Garrett. Formerly from Boston, and now living in Las Vegas, Garrett may not be a household name at the national level, but she did place eighth at the 2006 NPC - also as a LtHW. At 5-1 and one of the shortest of the heavier division competitors, Garrett distributed 138 muscular pounds her her well-balanced frame, and her impressive muscle density and thickness in every bodypart screams of higher placings very soon. With stricter dieting and contest prep to bring more detail and muscle separation to her overall physique, those elements should do the trick. Competing as far back as 1999 where she was a runner-up at the NPC New England Championships, she was also an overall winner at the NPC Massachusetts and New England Night of Champions in 2005. Most recently, Garrett was the overall winner at the 2011 NPC Los Angeles Championships.



Heavyweights: Kennedy Wins Big



The heavyweight class always raises the question as to who is the biggest contestant in the contest. That part is easy. At weigh-ins Arizona's Melissa Rex – shaved head and all – tipped the scales at 162 pounds. But with nine competitors in the class, the average weight of those nine women was 151 ½ pounds – a far cry from the days in the 90's when several women would compete at over the 170-pound mark at any given national-level event.
As the final tallies showed this year, it didn't even take 151 ½ pounds to win this year's heavyweight battle. Floridian Jennifer Kennedy made due with 148 pounds – and from head to toe she was the cream of the crop. Showing a nice level of muscular balance on her sound 5-4 structural frame, Kennedy's overall detail and muscle separation was up to the challenge of her heavyweight counterparts. With striking thighs highlighted by a set of sartorius muscles that looked like the ropes you used to climb in gym class, Kennedy drew more and more attention with each compulsory pose of the prejudging. Her eventual victory in this class couldn't really be labeled a surprise considering the fact that she had been the runner-up finisher at the 2011 NPC Nationals. All she did was improve on her overall , and as any bodybuilder will tell you, it isn't always as easy as it sounds. In Jennifer Kennedy's case she did her homework the past year and the result was an 'A' for effort. She's the USA heavyweight champion – a nice title to hold going into the NPC Nationals later in the year.
Californian Victoria Dominquez also did her homework over the past year and showing a huge level of improvement from the past two years her contest finish here
shows the result. Finishing second to Kennedy, Dominquez was impressive at 157 pounds and well-conditioned with impressive side chest and frontal quad poses that made judges take a second look. Her placement at this USA puts an exclamation point on her past three national-level events where she placed sixth at the 2010 IFBB North American, sixth at the 2010 NPC Nationals, and sixth at the 2011 IFBB North American. With the look she brought to this event and further improvement, those sixth-place finishes should be a thing of the past.
As one of the lightest heavyweights at 141 pounds (missing the LtHW class by a pound), Texan Karen Choat still managed to get enough attention from the judging panel to lock up a third-place finish. Fresh from a victory at the NPC Masters Nationals, Choate gets the most from a 5-3 frame that is genetically sound and when in shape she is always competitive. Coincidentally, Choat is no stranger to third-place finishes. She has been third at the 2007 NPC Nationals, and third at the NPC USA in both 2007 and 2008 – all as a light-heavyweight. Her move up to the HW class (which may not have been planned) didn't seem to adversely effect her ability to remain competitive in a field of contestants – five of which outweighed her by at least 10 pounds or more.
From Lees Summit, Missouri, fourth-placed Alyssa Stroud has come a long way since beginning as a Figure competitor in 2007. But once she made the switch to bodybuilding, her improvements have been notably impressive – and that, combined with her age in the mid-20's makes her a potential star of the future assuming she keeps some perspective on her progress and continues to rely on her God-given genetic blessings. At 5-7, and weighing 156 for this contest, she can be very good within just a few years, and that statement can be best substantiated by her ability to hold her own in this contest, and in a class where all the other entrants are considerably older. At 5-7, her frame can hold another 10 pounds of contest-ready muscle easily. The rest is up to the judges. "There she is again," commented a fan sitting in the front row of the evening show crowd. The reference was directed at Michigan's LaDawn McDay. The reason for the comment came by way of her presence at several major events where she is always in the thick of the competition. Here, she finished fifth, but at past USA contests she has done better. For instance in 2009 she was placed third in the LtHW class. In 2010 she moved up to second. Her contest resume is riddled with top five placings, and this year she made a major breakthrough by winning the overall title at the NPC Junior Nationals – her first victory as a heavyweight. Weighing in here at 149 pounds, McDay still shows she's a work in progress, and like a surprising number of others competing this weekend, she has all the tools to move up to the pro level. One look at the broad shoulders, waspy waistline and well-shaped legs all spell success when she dials in her conditioning level. There just isn't anything missing that would need a major overhaul in McDay's physique Time will tell, and we are all waiting.

View all photos and Results for the 2012 NPC USA's>>