Details

Published on Sunday, 08 July 2012 14:04
Written by Steve Wennerstrom, IFBB Women's Historian
Teaneck, New Jersey, June 6-7: Now in its 18th year, the annual NPC Team Universe was staged this year at the Teaneck Marriott at Glenpointe, as the two-day event kicked off on Friday with the prejudging of the women's Bodybuilding division, followed on Saturday with the prejudging of the Physique division and finals for both groups in the evening. In addition to the many pro card qualifications offered at this event, the added perk goes to the overall winner of the women's Bodybuilding division earning a trip to the IFBB World Amateur Championships – scheduled for Bialystok, Poland, in October.

This year, pro qualification was being offered to the overall winner of the open Team Universe in bodybuilding, the winners of both the Masters over 35, and Masters over 45 classes in bodybuilding, and the top three in each of the three height classes in the Physique division. Scrambling for 12 available pro cards in these groups were 43 Physique contestants and nine in the Bodybuilding division.
Glenese Scores High Markes in Bodybuilding



Almost every year without exception a nugget is uncovered in the field of the Team Universe. Past winners of the overall Team Universe title have included the likes of Lisa Aukland and Stephanie Kessler – both of whom went on to compete in the Ms. Olympia.

Here, and almost out of nowhere, came New Yorker Glenese Markes. A heavyweight, but at 5-3, 135 pounds, managed to pack considerable muscle on her well-shaped frame. Markes was dominant in the small field of contestants. Fact is, it may not have mattered how many competitors were pitted against her, she was complete and well-conditioned. A former figure competitor, the 33 year-old Markes had two previous entries in the Team Universe (2007 and '08) but her placings fell short of setting the world afire. Four years later – and ten pounds heavier - she gave the Physique division a thought, but by the time she was ready to enter the NPC Metropolitan this year, it was already clear she was beyond the scope of the new division's criteria with her muscular level. She quickly made the switch to the bodybuilding class. The result was a MW and overall victory at the Metropolitan and a new plan to enter the Team U. From Brooklyn, Markes has an extensive athletic background that included swimming, tennis, track & field and netball. That base worked wonders in carving what is now an outstanding physique. Recently, Markes was named the NPC Athlete of the Month (women's bodybuilding) for March, and she has certainly held up her end of that selection. She will now prepare for her trip to Poland to compete against the rest of the world and then move up to her membership as an IFBB pro. In winning the overall this year, Markes follows fellow New Yorker Cynthia Colon who won the overall crown last year.

Running second to Markes was Arizona's Christine Sabo. Talk about contest credentials, Sabo has been competing since 1994. She was the overall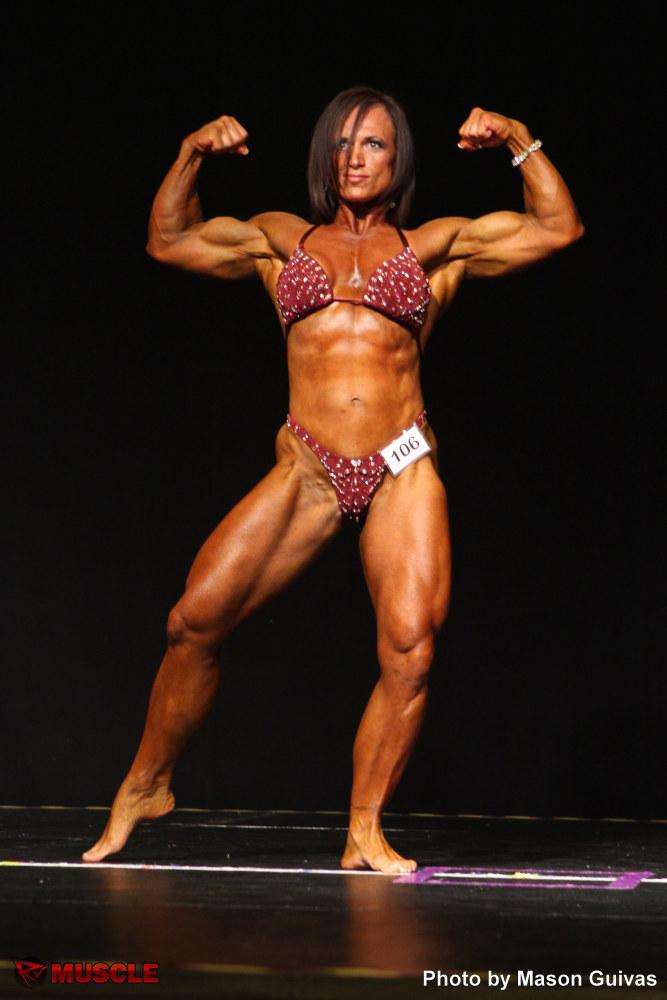 winner at the 2004 NPC Junior Nationals, and won the light-heavyweight class at the 2008 NPC USA, not to mention a wagon load of runner-up finishes at national-level events. For Sabo, this year's Team Universe was her first time entering this event and a second-place finish here would be disappointing but nothing new. She has been second at the NPC USA in her weight class three times and second in her class at the IFBB North American Championships twice. A state champion in Illinois in 1994 and Arizona in 2003, Sabo has always been a class act competitively and her finish here adds to what is already a glowing contest resume.

Third went to Shawna Mendelson. Although admittedly overweight to be competitive, Mendelson can easily stake a claim as the strongest female competitor at this contest. She is a world class powerlifter with PR's of 465 bench, 660 squat, and 525 dead. She has been a World and National powerlifting champion on many occasions. A HW winner at the 2010 NPC Metropolitan, Mendelson has competed twice at the Team U in the past placing 11th in 2009 and 8th in 2011. And did we mention she has a kinesiology/physical therapy degree from NYU.


With just two contestants in the middleweight class, it was left to Gail Auerbach to make a convincing statement with a well-prepared over physique. And that she did. Auerbach, from Arlington Heights, Illinois, has moved quickly through the amateur ranks after an overall win at the 2009 NPC Junior USA, to go with a middleweight victory at the 2011 NPC USA. Her win in this class qualifies her to make the trip to Poland to compete in the IFBB World Amateur Championships.

Finishing second to Auerbach was Sandy James-Brown who had previously won the LW class at the 2011 NPC Eastern USA.

A trio of lightweights flexed for the Team U title in this class, and it was Twanna Milanich from Rocky Point, North Carolina, who claimed the crown. A LW and overall winner at the 2011 Gold's Classic, Milanich recently placed third at the 2012 NPC North Carolina, with a matching third-place finish in the Masters over 35 class.
Debra Zahra and Trecy Jackson took the second and third place spots respectively.


Masters Winners Go Pro!



This year a pro card was offered to the winners of the Masters over 35 and over 45 classes. With the entire cast of Masters characters having already competed in the open division, there were no surprises but plenty of joy to spread around. In the over 35 class Gail Auerbach made it a perfect day by winning this class and the pro qualification. Second, and it seems redundant, was Christine Sabo. Michelle Brent placed third (more about her later). Sandy James-Brown finished fourth, with Shawna Mendelson taking the fifth spot.



There are some that might say that winning a contest unopposed is like kissing through a screen door. But nothing could be further from the truth when it comes to Michelle Ivers-Brent and her victory in the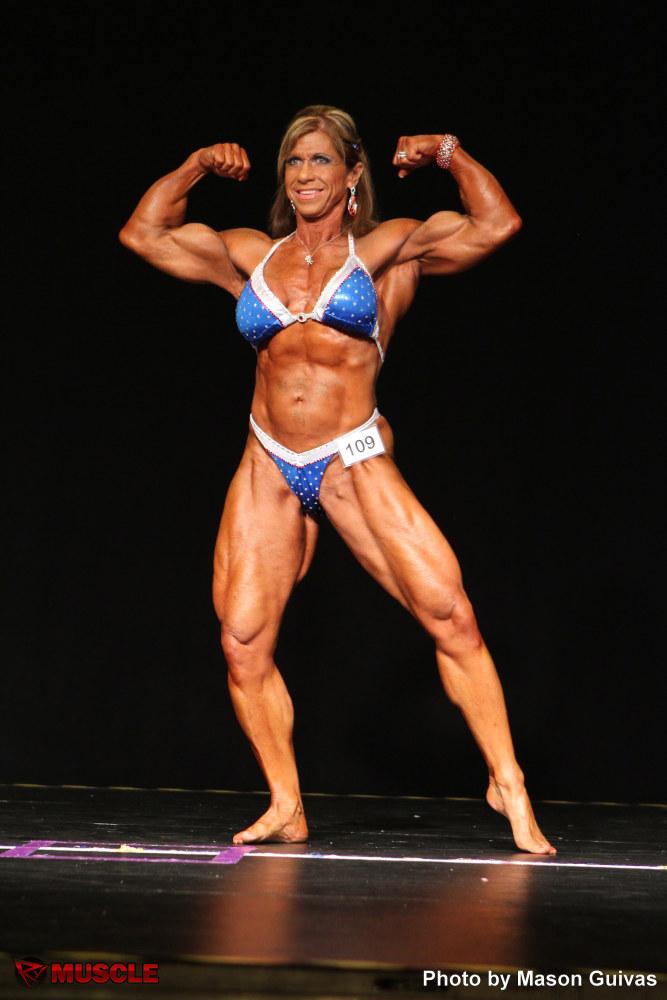 over 45 class. Be it 50 competitors or one, in her case it couldn't be sweeter. All that is needed here is to realize that Brent entered her first contest in 1985 (a 6th place finish at the Santa Cruz Classic in California). That was 27 years ago. And all she has done since then is compete, compete, compete. Imagine all the contest preps over that period of time. Along the way she has entered 7 NPC USA's, 10 NPC Nationals, and 10 IFBB North American Championships, not to mention countless other non-national level events. Perhaps most amazing about her journey is her love-hate relationship with the North American Championships. In her ten entries at that event she has been second SIX times. Three times as a MW in 1991, '92 and '94. And three times as a LtHW in 2006, '07, and '08. Her competitive career spans four decades, and here at the NPC Team Universe, a contest she had only entered once in 2004 where she finished fourth as a HW, she stakes a claim to a pro card that has taunted her for far too long. On this night of retrospection she has two directions to go. Either she'll sleep like a contented baby, or she'll bake cookie all night! Either way, it's all good.....a story with a very happy ending to a remarkable journey down bodybuilding's always unpredictable path.



44 PHYSIQUES, 9 PRO CARDS

As expected, the Physique division drew a big crowd, most notably due to the fact that there were nine pro cards in the offing. Nine. With three classes (17 in the 'A', 18 in 'B', and 9 in 'C') most everyone felt they had a pretty fair shot at reaching the pro level. The top three in each division did. (View the Contest Gallery for Photos & Results>>)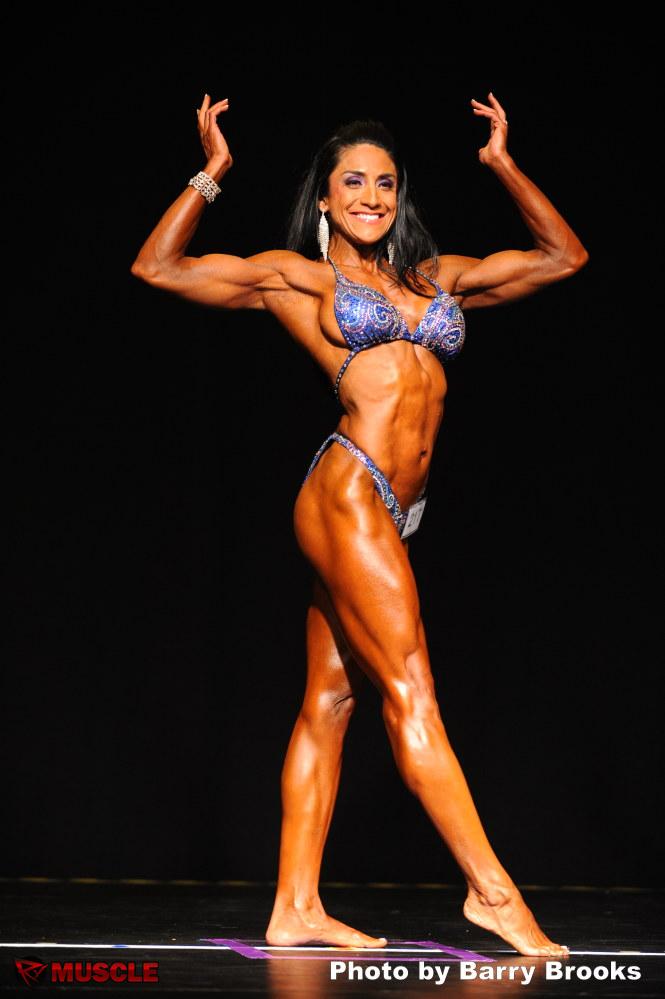 Lisa Lopez: 'B' For Best!

The dictionary definition of 'stately' tells us the word means ".....concerned with careful attention to form and detail". And that is exactly what set Lisa Lopez apart from not only her 'B' class challengers, but also in the selection of the overall. From Fairfax, Virginia, Lopez was radiant in her stage presence and presentation. Her muscular level almost became a secondary consideration. At 5-3, it wasn't her height that bought a lion's share of the notice to her structure, but more than anything it was the persona she brought from her days as a figure competitor that helped hone her new look. Stunningly, Lopez is of an age to compete in the Masters division, and she did during her years as a figure competitor. No stranger to the national level, Lopez has competed at the NPC USA, Junior Nationals, and Masters Nationals. Her last visit to the 2010 NPC Team Universe she was a 15th-place finisher in her figure class. But the switch to carrying more muscle has been successful. Most recently she won the overall title at the 2012 NPC Garden State – a far cry from her figure days competing in events like the NPC John Sherman Classic in 2006. On this day she topped her class, won the overall, and added the reality that she was now on her way to a place in the IFBB pro ranks. Not a bad days work.
Also capturing the coveted pro cards in the 'B' class were Jennifer Louwagie in second, and Susan Graham third.

4- Alecia Rankovic
5- Jill Dearmin


Baker Rises To The Occasion With a Victory in the 'A' Class

It may sound strange to call a Physique competitor a veteran, but Rachel Baker can fully qualify for that standing. If anything, she's been persistent. And it has earned dividends. From Lutherville, Maryland,
Baker has made the rounds as a Physique contestant with five previous contests before the Team U. More impressively, she has been agonizingly close to moving into the proPhysique ranks on more than one occasion. In 2011 she competed four times placing second at the Junior USA, second at the Junior Nationals, third at the Team U, and third at the NPC Nationals. This year she kicked off her competitive efforts with another runner-up finish at the NPC Junior USA, before nailing down a victory at this event. A former figure competitor, Baker's past exploits mirror that of many figure contestants who carried what was considered too much muscle. At the 2009 NPC Nationals she didn't place. At the 2010 Team U she placed ninth. She even took a fling at bodybuilding placing eighth at the 2010 NPC Masters Nationals as a lightweight. Now, however, she's found a common ground to further cultivate her well-balanced physique and it will be in the pro ranks.
Claiming the two additional pro cards in the 'A' class was runner-up Dawniel King, and third-placer Evangeline Belton in the 18-contestant class.

4- Loan Leonard
5- Adina Edwards



A Georgia Peach Takes the 'C' Class


Better known as the tall class, the 'C' class was the smallest of the three groups with nine contestants. But among them, Georgia's Candrea Judd-Adams put together a clean, sharp looking structure whose preparation left little for judges to find fault. The result was a victory for the Jonesboro resident.
Runner-up Tiani Norman turned her luck around with this pro card winning effort after experiencing a pair of 13th-place finishes at the 2010 NPC Nationals and NPC Team Universe.
Finishing third and snagging the final available pro card in the Physique division was Andrea Holiday. Another former figure competitor, Holiday didn't place at the 2010 NPC Nationals, and after a seventh-place finish at the 2012 NPC Junior USA she decided to make the switch. Now with those impressive shoulders and delts topping a tiny waistline, the Physique division should be much more her style.

4- Roxie Beckles
5- Christine Morrow