Details

Published on Monday, 20 February 2012 12:04
Written by Steve Wennerstrom, IFBB Women's Historian
February 18, Santa Monica, California: With the first contest of the 2012 season staged at the Civic Auditorium in Santa Monica, Adela Garcia's victory carried with it a story that relates closely to this venue and her eventual pro career.
First, she left off where she finished the 2011 season – by winning yet another pro contest. Having now competed in over 30 pro fitness events with a wheelbarrow full of them ending in the victory circle, Garcia has set a standard of winning that will be extremely difficult for future fitness competitors to match.
Holding a handful of Ms. Olympia titles and a slightly smaller handful of Ms. International crowns, her victory tonight is meaningful due to an easily overlooked factor, and that is the Civic Auditorium itself. Why? Well, it was in this same building in 1999 that the fortunes of competition for Adela Garcia changed forever, and the occasion was that on this same stage she flipped and spun her way to the overall NPC USA Fitness Championship title a mere 13 years earlier.
As fitness competitors go, the shelf life of these dedicated and highly skilled athletes is considerably less lengthy than the 13 years Garcia has put in as a pro – not to mention the amateur years where she honed her craft. And although she has long ago reached the elite of the elite in her chosen sport, her victory here serves as an interesting example of a career coming full circle.
In 1999, Garcia's win at the NPC USA was, at the time, a fulfillment of her dreams. And that year's fitness field had a pretty good graduating class that also included a fellow class winner named Jenny Hendershott. So, Garcia's overall win now looks even more meaningful with the passage of time. Although she moved into the pro ranks and experienced humble beginnings with placings that showed her potential, the fact was that she was into her third year of competitions before she won her first pro contest in 2002. Since then, however, she has built a resume the envy of any fitness competitor.
In this return to her roots and where she can chart back to her biggest amateur success, Garcia put her Ms. Olympia crowns on the line against a field of 12 accomplished challengers. As is usual in her vibrant routines, she once again made good use of the entire stage and still executes her tricks with sharpness and speed. Her evening performance was clean and without mistakes and as the old boxing adage goes, 'to beat the champs, you gotta knock them out'. It wasn't to be, and in the process she pocketed $5,500 in prize money for her winning effort.
If there was a major surprise in this contest, albeit a pleasant one, the runner-up spot went to the ravishing Russian Oksana Grishina. Long considered one of the most underrated competitors in the pro ranks, Grishina is entering her sixth year as a pro and has not yet won a pro contest. Here, she came as close as she ever has with her best-ever finish. The stumbling block she ran into at this event was to figure out how to upset a six-time Ms. Olympia winner.
Viewed as a superb performer when it comes to fitness routines, Grishina is a story teller using her body to tell the tale. And she does so in stunningly beautiful and entertaining ways. Physically, Grishina is also eye-catching with a level of musculature commensurate with a pro athlete in any sport. To paraphrase the old ZZ Top tune, 'She's Got Body, and She Knows How to Use It'.
Grishina's second-place finish here replaced the third-place finish she took at the All-Star Pro Fitness Championship in 2007 as her best pro effort, and in her five years of onstage work she has been to three Ms. Olympia contests, and four Ms. Internationals – always placing in the top ten, with a pair of fifth-place finishes at the 2010 Ms. O and Ms. I. She may be considered underrated, but not overlooked. But with a new season under way, perhaps she may become more appreciated. Time and future contests will tell. Meanwhile Grishina cheerfully accepted a check for $3,500 as the runner-up.
Running third and strangely considered a surprise top-three finisher here was Canadian Myriam Capes. The strange aspect was that she wasn't seen as a possible top-three placer by the prognosticators in pre-contest forecasts. Standing just 5-0 feet tall, it's possible she was simply overlooked. But the reality is she, like Grishina, is a performer of the highest order, and that helps make her competitive at any event.
Since turning pro in 2007 after winning the Canadian Nationals, Capes has been an active pro competitor. In fact, in her first year she experienced the extremes of what competing at the pro level can bring. In her pro debut she finished second at the Spanish Pro Grand Prix qualifying her for the Ms. Olympia. There, however, she placed 18th. That was a sobering welcome to the big leagues! But undaunted, and ever since, she has racked up four more second place finishes - most recently at the Toronto Supershow in 2011, and she has competed in three more Ms. Olympia contests placing sixth in 2009, fourth in 2010, and third last year. That's third-place behind Adela Garcia and Tanji Johnson. So, it shouldn't be surprising she placed third at this event. The real surprise was that she topped Tanji Johnson for the first time, and that is a significant accomplishment. Capes share of the prize came to $1,000 for her third-place finish.
Placing fourth was Tanji Johnson which was a surprise to many. A pre-contest pick to place in the top three, Johnson was in the thick of the race after the first round of judging. But it was a tight squeeze among Camala Rodriquez with 19 points, Johnson at 21 and Grishina at 22. With Garcia taking the unanimous score in round 1 followed by Betheny Cisternino right behind, the top five at that point left little breathing room. But the greater emphasis now being placed on fitness routines (at 75% of the score) was a deal breaker and quickly separated this quintet. Garcia remained in front with a comfortable lead, but Grishina's strong performance in round 2 pulled her into what would be an equally comfortable runner-up position. Myrian Capes also benefited with a strong routine round to move into the top three after running sixth in round 1, but it was Johnson's uncharacteristic fall from grace in the second round that caused her fall from the top three. Judges simply didn't respond as positively to her routine as they have in the past. In fact, five competitors topped Johnson in the routine round. But she'll have an opportunity to redeem herself at the Fitness International in two weeks.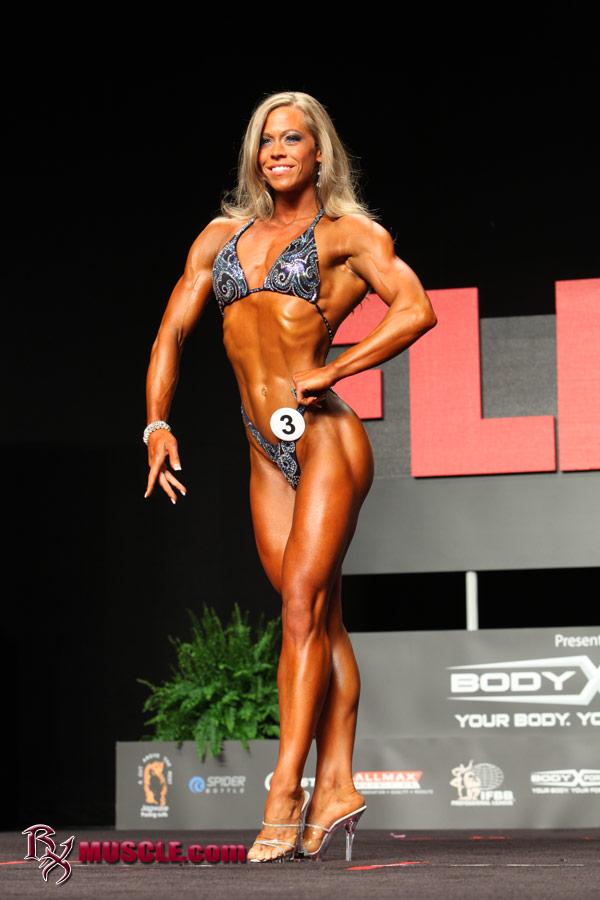 The fifth-place slot went to Betheny Cisternino. At 5-3 and in devastingly great shape, she killed the first round running a solid second to Garcia. Many saw her as the 'Wow Factor' after round 1. A sixth-place finisher at the 2010 Ms. Olympia along with pocketing her first pro level win at the Europa Super Show that year, this eye-catching Jersey girl really put herself at the elite level in 2011 finishing sixth at the Ms. International, and seventh at the Ms. O - together with two runner-up finishes at the Arnold Classic Europe and New York Pro. Her fifth-place finish here had everything to do with her second round score. In future events Cisternino will simply need to re-think her approach to that all-important routine round to find a more seamless way of moving her round 1 wow factor capability into round 2.
Outside the Top Five:
6- Jodi Boam, Canada
7-Vanda Hadarean, Canada
8-Camala Rodriquez, USA
9-Allison Ethier, Canada
10-Sheri Vucick, USA
11-Michele Mayberry, USA
12-Paula Gulman-Williams, USA